Translation by City Tours Europe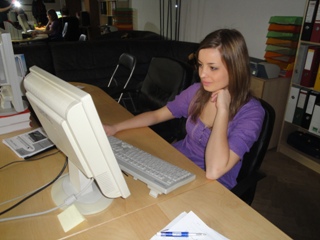 Multilinguism belongs to our own everyday work, considering that City Tours Europe offers its services all around Europe in four to five working languages (German, English, French, Italian and - in a more restricted way - Spanish) and that we are using three more languages for communication in our central office (Russian, Bulgarian and Austrian Sign Language). We need everyday a big amount of translations, including contracts with customers, contracts with suppliers and service providers, leaflets, catalogues, mail, websites, press releases, etc. Most of the translations we need are dealt with by our in-house translators - if we need too many translations or translations in other languages as our own working languages - German, English, French, Italian and Spanish - we award them to reliable, high-qualified freelance translators in Austria, Bulgaria and all around Europe.
City Tours as a translation bureau
Considering that we need everyday a big amount of translations for our own business, we soon came to the idea of offering translation services to our business partners as well: in a first time to our suppliers in Austria, Germany and all around Europe, then later to our customers too. City Tours Europe is now a fully entitled translation bureau and acts as a translation agency all around Europe for translations from German into English, French, Italian, Spanish and Bulgarian and for translations from English, French, Italian, Spanish, Bulgarian, Russian, Slovenian, Croatian, Hungarian, Dutch, Portuguese, Turkish and Greec into German. We can also provide our customers and business partners with translation services to and from other languages, which we award to reliable, high-qualified, fast-working and efficient translators and translator agencies based in various European countries.
Specialized fields of City Tours' translators
For obvious reasons, City Tours Europe's in-house translators are specialized in the translation of touristic, cultural and historical texts. We are especially qualified for high-level translation of menus, museum guides, audioguide texts, and presentations of touristic regions, museums, venues and further institutions in the fields of tourism and culture in Europe, as well as biographies of eminent figures from the world of art and culture. Legal texts for everyday use - like General terms of sale or contracts - are also mostly translated in-house. For further translation fields like the translation of technical texts - operating instructions and other documentations - or literary translation of poems and novels, we have a list of reliable partners who have never deceived us yet - both as regards their work efficiency and the correctness and quality of their translations.
Order a translation by City Tours
if you want to entrust City Tours Europe with a translation - for example from English or into English - please send us an email at . We will get in touch with you in very little time to let you know if we can get your text translated from the source language of your choice into the target language of your choice - and how long this would need. And if we are not able to do it ourselves, then we will at any rate be able to recommend one of our excellent partners all around Europe!