Job offers by City Tours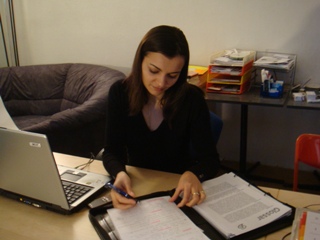 City Tours Europe is a fast-growing company that offers various services in the fields of tourism, entertainment, languages and marketing. Our central office is in Vienna, Austria - we also operate offices, liaison offices and subsidiaries in several other places and cooperate with various freelance workers in many European cities. This web page gives you information about currently available jobs at City Tours Europe and about the sectors in which we are currently looking for subcontractors, freelance workers and franchisees. If you are interested in one of the following descriptions, then we are looking forward to a convincing application including a letter of application and a résumé with a photo.
Important: we make our most to answer each application in as little time as possible. If we are interested in your application, be sure we will contact you anyway and invite you to a personal interview with a member of our staff in Vienna or with one of our representatives in other European countries. Unfortunately, because of the big number of applications we get, it is not always possible to write a full explanation for each refusal. It can also hapen - especially in case of careless letters of application or impersonal mass application - that we do not react at all to an application. If this should be the case, we would like to apologize in advance and assure you that this does not mean anything against you as a person, and can only be explained by the lack of time.
What's more: refusal or no reaction to an application are NOT a reason for insulting us by email or on the phone...
City Tours jobs in Austria
We do not currently have any job openings in Austria. Yet we do always welcome letters from freelancers who are interested in a co-operation with City Tours Europe, especially:
State-certified tour guides: due to our continuously increasing demand for guided tours, we are always looking for new tour guides for our customers from Europe and all around the world. Apart from the state certification, we make a point of: absolute reliability regarding punctuality and observation of the programm, ability to solve unforeseen difficulties, good appearance and behaviour, willingness to learn always more, clear way of speaking, good knowledge of the foreign languages offered and - most important - ability to offer entertaining guided tours.
Artists and entertainers: we are permanently looking for talented Austrian artists with creative ideas for our artist agency "Austrian Artists". We make a point of the ability to self-assessment, willingness to an unreserved co-operation with development of advertising and presentation material, availability byy email and by phone and punctuality at performances and at appointments with our staff. In other terms: we do not like to wait...
Translators and interpreters: we continuously need translators and interpreters for our own use as well as for our clients. For that purpose, we keep a list of interpreters and translators, for we always prefer to know in advance who we can entrust with our contracts. This is why letters from freelance translators and interpreters interested in working together with City Tours Europe are anytime welcome.
Further freelance workers in the field of tourism: we like to keep up-to-date with the newest trends in the field of tourism in Austria and everywhere in Europe. If you provide any kind of service in the field of tourism and have an interesting offer, then we would like to read documentation about it and will consider including it into our offer in our various distribution channels. This includes for example bus companies, local bus tour operators, concert promoters, restaurants, hotels, private accomodation services, etc. Do not worry if you are not sure whether or not your documentation could be of interest for us - just send it to us: it only takes us half a second to click on the "Delete" button - and we are always glad to receive an interesting offer among all the usual advertisements for medication... Please just do not hold it against us if we do not answer you: it can happen. Yet if we do precisely need the service you are offering us, be sure we will remember you! :)
City Tours jobs in Germany
We do not currently have any job openings in Germany. Yet we do welcome anytime letters from freelance translators, tour guides and further freelancers in the field of tourism who might be interested in a co-operation with City Tours Europe.
City Tours jobs in Bulgaria
We are currently looking for an employee for the following job opening in Bulgaria:
Management assistant: we are currently looking for a management assistant in our subsidiary City Services OOD based in Sofia, Bulgaria, with the following tasks: communication between Bulgarian-speaking employers and employers with another mother tongue and communication with business partners and customers in Bulgaria, handling of administrative documents, development of new projects, scheduling management and various administrative tasks. Requirements: mother tongue Bulgarian (excellent level needed!) excellent mastery of at least one of the following languages: German, French or Italian; good knowledge of MS Word and MS Excel, at least basic knowledge of MS Access; a solid experience with Bulgarian official institutions would be a great advantage. Please send us your application including a letter of application, a photo and a résumé at under the subject: "JB BG(S) 1056 via CT-EU".
Important information to job candidates
If you have any question regarding the job offers described on this web page, the team of City Tours Europe is at your disposal - only by email - at . We cannot take in consideration any application by phone - and as far as information by phone is concerned, we have the following rule: if you want to speak with a member of our staff responsible for a particular field, please let us know about it in your email - the corresponding person will contact you if possible. Please understand that we cannot consider any other procedure, given the multi-layered organization of our company.
Thank you for your interest in City Tours Europe's job offers - we are looking forward to reading you!