Bus travels in Europe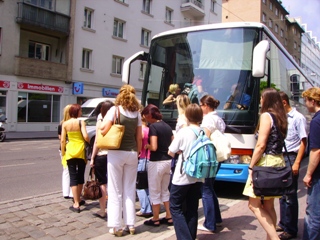 Apart from the bus rental for bus transfers, sightseeing bus tours and city tours in many European cities, one of the main services provided by City Tours Europe is the organization of bus trips all around Europe. Whatever the place you might wish to start your trip from, the City Tours Europe team will be glad to make you an offer for a tailor-made travel perfectly fitting your expectations and your own interest, thanks to its partnership network with carefully-selected bus companies all around Europe. Of course, we do not only provide you with comfortable motor coaches of any size for your travel in Europe, but also with qualified and experienced tour representatives who will accompany the travelling group from the beginning to the end and make sure that everything is going well. And of course we do also take care of the whole organization if you want us to - like booking hotels and good restaurants.
Available destinations for your bus trip
In general, City Tours Europe is perfectly prepared to organize bus trips to any direction in Europe. Yet we are of course better represented in some regions, in which we are therefore able to provide you with even better and more complete services. City Tours Europe is specialized in bus trips to the following countries and regions:
Bus trips to Austria: Thanks to our extensive knowledge of Austria, we can organize any kind of high-quality bus trips to Austria starting from any place in Europe. From school trips for Italian or German school classes to sightseeing tours for singles, for smokers, for seniors or company trips - we have big experience not only with the destination country Austria, but also with the special needs of every particular group of travellers. The fact that City Tours Europe has its central office in Vienna and that we receive every year a great number of tourist parties in Austria makes us to the ideal partner for groups, companies and tour operators all over Europe as far as the organization of bus trips to Austria is concerned.
Bus trip to Bavaria: After Austria, Bavaria was the second region where City Tours Europe became active - and we are still making every year our second-best turnover in Bavaria compared to all other European regions. This explains that we now have in Bavaria the same "home advantages" that we have in Austria. Our know-how, our local knowledge as well as our many professional contacts in Bavaria are a great advantage that our customers can enjoy when we organize their bus trip to Bavaria.
Bus travel to Berlin: The first destination to which City Tours Europe decided not only to organize bus trips for private tourist parties, but also open bus trips for individual travellers is Berlin. For many years we have organized every year bus trips from Italy to Berlin for New Year's Eve and this brought us solid local knowledge which, put together with the local knowledge and know-how of our partners in Berlin, guarantee our customers high-quality travels to Berlin.
Bus trips to Italy and France: Apart from German, most of the employers at City Tours Europe speak perfect French and Italian. Many members of our team actually come from France or from Italy, many others have French or Italian origins. At any rate, most of City Tours Europe's staff have a close relationship to Italy and / or France and spend a lot of time in the one or the other of these countries. Due to these personnal preference of our team, we are always ready - and actually really glad - to organize for our clients a bus trip in any region of Italy or France - and these trips always see great results.
Bus travels to Bulgaria: City Tours Europe runs its own subsidiary company in Bulgaria - called "City Services OOD" - which takes care of administrative tacks such as bookkeeping and translation for City Tours Europe, but also of the organization of bus trips to Bulgaria for customers from all around Europe.
As mentioned before, these examples for bus trips are really only a few examples of places to which City Tours Europe can bring you. Whatever region in Europe you might want to travel to, please do not hesitate to contact us. We would be glad to advise you on the pros and cons of various destinations, and plan with you a tailor-made programme for your very own bus trip in Europe; we will provide you with the appropriate vehicle and a driver and take care of any necessary reservation - sightseeing programmes, hotels, restaurants, etc. - anywhere in Europe.
How to book a bus trip from City Tours
If you are interested in asking the tour operator City Tours Europe to organize your bus travel to any destination in Europe, we are looking forward to hear from you! Please write us and remember to send us as much information as possible regarding the kind of bus trip, destination and number of participants: we will answer you in very little time. Of course, we are also at your disposal by phone or for a personal discussion in our office: if this is what you wish, please let us know about it in your email to . We are looking forward to reading you soon!